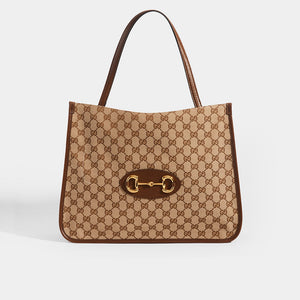 Gucci's signature 'Horsebit' feature was first introduced more than 60 years ago, and continues to be one of the house's most iconic and sought after design details to this day. If you're someone who likes their handbags to be spacious, this roomy tote bag version, recently reimagined for the brand's Cruise 2020 collection, will tick all of your boxes. Beautifully crafted in original GG Supreme monogram canvas with a polished brown leather trim and cotton linen lining, this simple yet elegant style lets the equestrian inspired gold hardware shine. Interior zipped and pouch pockets mean no rummaging around for valuables while the long leather handles sit comfortably over the shoulder, so you can effortlessly show this style off everywhere you go. And trust us, you'll want to take it everywhere.
Colour:
Natural/Tan
Material:
Leather
Dimensions:
Height: 28.5cm- Width: 38cm - Depth: 13cm
Year:
2021
Country of Origin:
Italy
Accessories:
Dustbag, brand papers
Authentication Guarantee:
Serial code
Good - Well maintained exterior with some wear on the corners. Stained pen marks on interior.
Treat the bag you've ordered with the love and respect it deserves during your time together, so other members can get as much joy out of it as you. If you're worried about any marks at all, always speak to us first so we can advise on the best action to take. In general, kindness goes a long way— the bags in our collection much prefer to sit on your lap than the floor, for example, and don't love feeling overstuffed. We inspect each bag upon return, and we'll let you know if there's any issues at all.